Challenge Center is an exceptional not-for-profit 501(c)(3) restoring health, hope, and lives. We provide skilled physical therapy, specialized fitness, and wellness programs to rehabilitate, increase independence, and improve the quality of life for seniors, individuals with severe physical disabilities, their families, and caregivers. With our licensed staff, physical therapy and assisted fitness programs, and state-of-the-art equipment, Challenge Center surpasses every goal by providing the continuum of care often missed by other limited resources.
Challenge Center Treatment and Care Services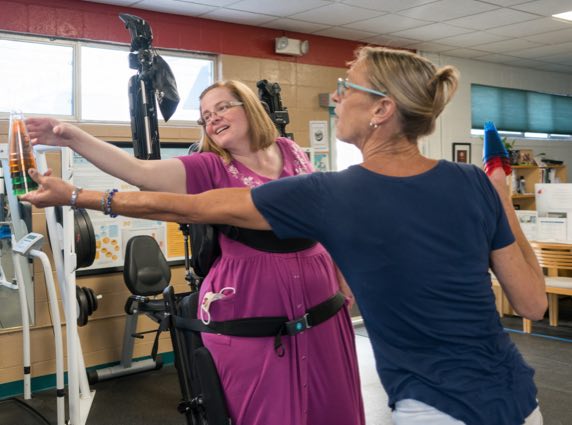 Challenge Center provides high quality care to maximize potential, restore independence, and maintain health. Our services are for all neurologically impaired and severely disabled individuals, as well as seniors.
Some common conditions we treat include:
Spinal Cord Injury
Brain Injury
Stroke
Cerebral Palsy
Multiple Sclerosis
Parkinson's Disease
Muscular Dystrophies
The Challenge Center Scholarship Fund
Challenge Center is a 501(c)3 non-profit organization that fundraises year-round to help individuals with low income receive the care they deserve, after their health insurance covered rehabilitation ends. Our Scholarship Fund is available to seniors and or individuals with severe disabilities of any age, and low income, covering up to 75% of the service fees for qualifying members. We care about our clients and actively seek solutions to keep our facility and services accessible.
Our Facilities
Challenge Center understands that each client lives with rehabilitation and fitness needs unique to their life. Creating an open layout was Challenge Center's first step. Alongside our state-of-the-art equipment, members can move and utilize equipment comfortably, including movement with bariatric equipment and physical therapy or fitness, to achieve their own personal goals. With the increased sense of independence and comfort, Challenge Center clients start at the Physical Therapist guided phase - Physical Therapy, Assisted Fitness, Independent Fitness, Personal Training, Aquatics - and graduate to new goals with success.
Our Equipment
Challenge Center houses a wide range of state-of-the-art equipment that is accessible to individuals of all ability levels. Our equipment is available not only to PT and health and wellness members, but to independent gym goers as well, rendering it an unmatched facility for maximizing rehabilitation and maintenance potential in Southern California. Some of Challenge Center's accessible equipment includes: two RT-300 CFES ergometry bicycles, 4 NuStep recumbent cross trainers, 4 standing frames, 2 upper body manual ergometers, a Litegait body weight support system, Equalizer brand multiple station wheelchair accessible resistance training equipment, various versatile attachments to accommodate decreased hand grip ability, and so much more!
Physical Therapy, Assisted Fitness, Aquatics Classes, Balance and Caregiver Training and more!