Whether you suffer from a long-term disability, life-changing accident, or simply want to live a healthier life, Challenge Center works closely with you to help you reach your goals. We offer one-on-one physical therapy, in addition to a wide range of health and wellness programs. Follow the links below to learn more about our different types of programs.
Challenge Center Treatment and Care Services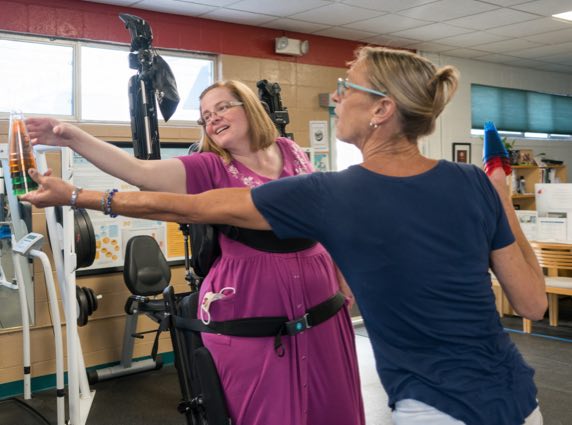 Challenge Center provides high quality care to maximize potential, restore independence, and maintain health. Our services are for all neurologically impaired and severely disabled individuals, as well as seniors.
Some common conditions we treat include:
Spinal Cord Injury
Brain Injury
Stroke
Cerebral Palsy
Multiple Sclerosis
Parkinson's Disease
Muscular Dystrophies
Learn More about our Programs and Classes Below
Whether it has been 2 weeks or 10 years since the onset of their condition, clients will work one-on-one with a Challenge Center Physical Therapist to receive the specialized care they need to make amazing changes in their life. Our PTs receive extra training and mentorship to help seniors and individuals of all ages with disabilities work beyond what insurance considers "medically necessary" and make progress toward the goals that are important to each individual client! And to make a great thing even better, is all done in a fun and uplifting environment of hope and challenging the status quo.
All PT staff is NDT trained, certified, and/or Neuro-IFRAH
certified
Free of insurance limitations, clients will receive the quality
of care needed without restricted number of sessions
Each client determines their goals! Our clients are not
restricted to working only on the goals that insurance has
deemed "medically necessary"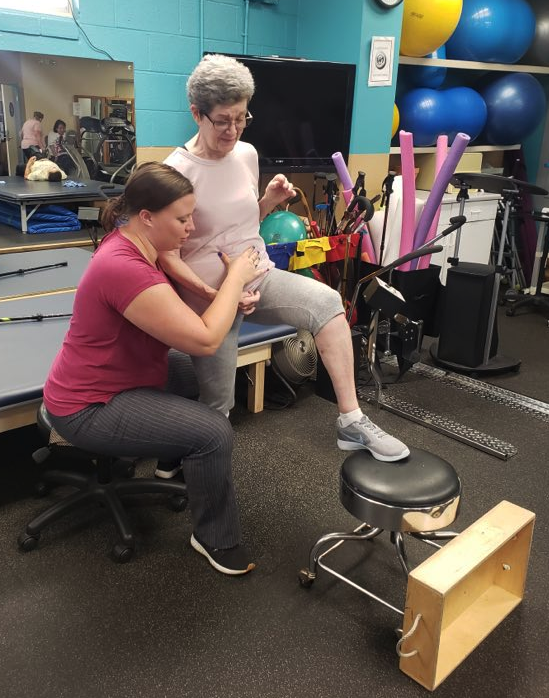 Additional Physical Therapy Services
Caregiver Training
Our Physical Therapists will provide family members and caregivers with training or education to help their loved one continue with progress at home. Additionally, training for family members and caregivers may include help with body mechanics and technique for transfers or other types of physical assistance that each individual client may need.
Get Started
Wheelchair Seating and Positioning Evaluation
Upon request, Challenge Center Physical Therapists can provide an assessment of your seating and positioning needs, then provide recommendations that you can supply to your wheelchair or equipment provider for seating modifications or development of a new wheelchair/seating system.
Request an Assessment
Health and Wellness Program
In Challenge Center's Health and Wellness program, each client receives an evaluation with a Physical Therapist who the creates an individualized recommended exercise plan to safely and effectively help each client reach their fitness goals. Our PTs use their expertise to assess many factors such as pre-existing medical conditions and surgical history, functional ability or limitations, range of motion, strength, goals, and many other factors to create each personalized exercise plan. Clients then meet with a Certified Personal Trainer who will provide assistance, guidance, education, and progress each client through their PT recommended exercises at every Health and Wellness session. Challenge Center's Certified Personal Trainers are specially trained to help seniors and individuals with disabilities exercise so that they may improve their fitness or maintain their health and function. We all need exercise; it isn't just for those who can access a typical gym, and we really mean it when we say we can help anyone exercise!
Assistance with transfers onto and off of equipment
Exercise modifications and grip-assist devices for a wide
range of abilities are available
One-on-one hands-on stretching
Equipment that is effective for, and accessible to,
individuals with mobility limitations
Blood pressure, heart rate, and rate of perceived exertion
monitoring
PT recommended exercise programs that are then
supervised, guided, and progressed by a highly trained
Certified Personal Trainer
Improve your fitness and maintain your health and function
for life!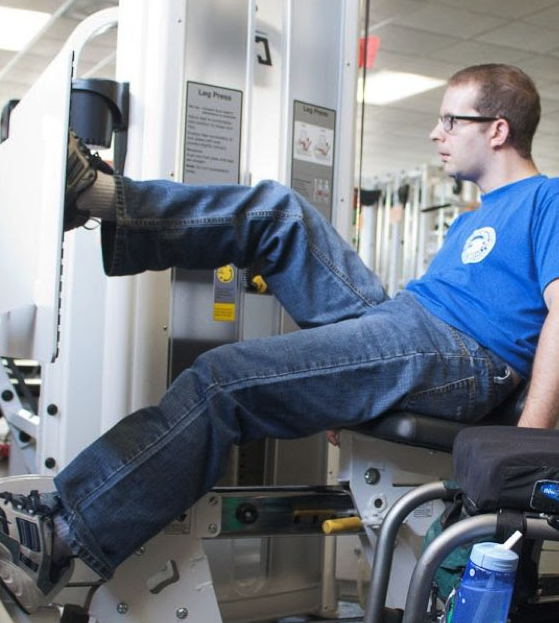 Additional Assisted Fitness Services
Caregiver Training
Our Certified Personal Trainers specialize in working with seniors and individuals with disabilities, and can provid education and training for family members and caregivers to help their loved one during their Assisted Fitness Sessions, or assist clients with maintaining their fitness gains at home between sessions. Training may include knowledge of exercise form and technique, or physical skills such as assisting with rising from a chair, etc.
Get Started
Personal Training
Personal Training with one of Challenge Center's Certified Personal Trainers is available for seniors or individuals with a qualifying disability, upon request.
Get Started
iFES (formerly CFES) Cycling
Integrated Functional Electrical Stimulation (iFES) allows clients with spinal cord injury or other forms of paralysis to ride a stationary bike (RT 300) with their upper or lower extremities. The computer of the RT300 cycle sends electrical impulses through electrodes placed on a client's arms, trunk, or legs, and creates muscle contractions in a patterned sequence that allows the client to pedal the bike with his or her paralyzed arm(s) or leg(s). This program allows clients to achieve active exercise in otherwise paralyzed muscles, which can have positive effects on the whole body, not just the working muscles.
Build or maintain muscle mass of paralyzed extremities
while preventing atrophy
Prevent pressure sores
Achieve cardiovascular exercise without over-using your
stronger, innervated muscles
Improve circulation and reduce spasticity
Receive assistance with vital sign monitoring, electrode
placement, and equipment use
Get Started
AGE-ility  360⁰ Total Gravity Management Class
This first-of-it's-kind class is unique to Challenge Center and provides participants with skills and education for 360⁰ total fall management! A licensed Physical Therapist will guide and teach participants in fall prevention, fall recovery, and falling techniques to reduce the risk of injury should a fall occur.
Improve power, agility, and balance strategies for fall prevention/ management and to confidently expand your life.
Professional "Crash Mats" to safely, comfortably and progressively practice how to fall without injury and how to rise from the floor.
Receive education on various topics including how to maximize the safety of your home
Track your progress with a before and after report card on evidenced based testing of agility and fall risk
Enroll in AGE-ility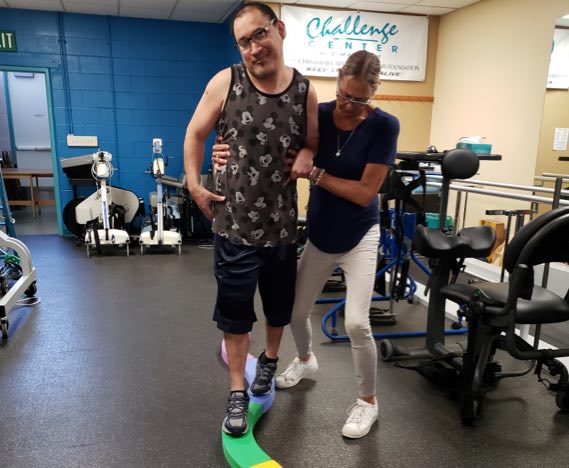 Balance and Conditioning Class
This is not your typical balance class! Our unique Balance and Conditioning class is designed to provide participants with personalized 1:1 balance training with an experienced Certified Personal Trainer, in addition to individualized cardio, strength, flexibility, and conditioning challenges to help improve your confidence, reduce your fear of falling, and get back to your life!
Sign Up
Adaptive Yoga
Our Adaptive Yoga class is an all-levels gentle yoga experience incorporating flexibility, strengthening, balance, breath and thought control for total mind and body connection. Our yoga instructors will provide individualized pose modifications to allow clients of all ability levels experience the healing benefits of yoga.
Sign Up
Aquatics
Warm water, small group fitness classes allow clients to achieve goals limited on land by impact, device dependence and other personal restrictions.
Low impact aerobic exercise
Stretching and Ai Chi postures
Water walking
Overall strengthening and conditioning
Sign Up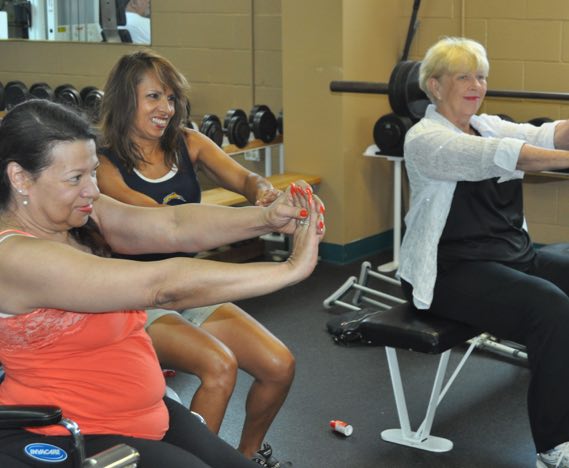 Seated Exercise Class
Roll in with your own chair or borrow one of ours for this FREE and fun group class. Participants will interact with each other as one of our Certified Personal Trainers leads the group though stretching, strengthening, range of motion, and cardiovascular exercise activities. This class is dynamic, upbeat, available to everyone, and did we mention it's FREE?!
Sign Up
Independent Fitness Membership
Challenge Center's gym is open to all members of the community, including individuals who are able-bodied and individuals with a disability who are able to work out independently or with the help of a caregiver. Gym memberships are just $20/month without sign-up fees or contracts, and includes use of our specialized and adaptive equipment. Personal Training is available to seniors or individuals with a qualifying disability upon request.
Low rate of just $20/month
Get access to specialized adaptive equipment and/or use standard gym equipment such as treadmills, ellipticals, free weights, bench press, and more.
Fit to Care Caregiver and Family Fitness Program
It's not just our clients that work hard and rise to meet the Challenge, caregivers do too. In an effort to support the total health and wellbeing of our clients' caregivers, we offer our independent gym memberships to the spouses/family members/caregivers of our clients, for only $15/month. Like our independent gym memberships, there is never a sign-up fee or contract.
Physical Therapy, Assisted Fitness, Aquatics Classes, Balance and Caregiver Training and more!